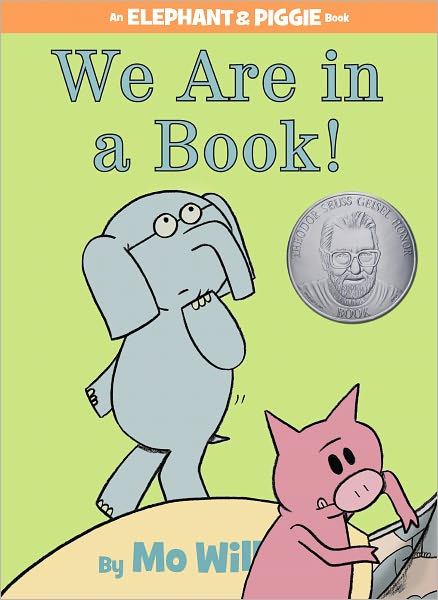 Many thanks to the Maryland Library Association for bestowing Elephant and Piggie's
WE ARE IN A BOOK!
with the
2011 Maryland Blue Crab Young Reader Award
for Beginning Fiction!
Librarians rock!
Thanks to you HAPPY PIG DAY! will spend it's second week on the NYTimes Bestseller list at #4 and it's first time on the
PW Bestseller list
(also at #4) Huzzah!
Thanks to Booklist for
their nice review
of HAPPY PIG DAY!
School Library Journal
has a nice review too. They say:
The animated characters convey emotion and humor; masterful use of white space and comic-style text bubbles will inspire repeated readings. Another hit for Willems.
Speaking of reviews,
the touring production
of KNUFFLE BUNNY, A CAUTIONARY MUSICAL, just stopped in Nashville, TN, where they received
a glowing review
. Here's
an interview
with "Trixie" (Tia Shearer) in the Columbia GA paper. I look forward to catching this leg of the show in Pittsfield, MA and Washington, DC.
If you're the sort of person who likes to win things,
here's a giveaway
for a copy of the brand new
Mo Willems Cartoon Collection Vol. 2.

In blog news, I'm off to NYC for a week, including an event tomorrow, work, a visit to the Original Art Show at the Society of Illustrators , and another event. Posting will be erratic, but you can always visit the Pigeon to see his tweets.